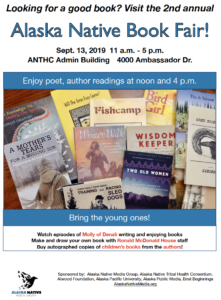 Several non-profit and educational organizations are holding an Alaska Native Book Fair Sept. 13, 2019 to promote reading, writing, and knowledge of Alaska Native cultures. We'll have author and poet readings at noon and 4 p.m. Participants can visit with published Alaska Native authors and illustrators and buy autographed books. Young ones can draw and write their own books. The event is free and open to the public. Please feel free to share information (PDF file) about the event.
Date: Sept. 13, 11:30 a.m.-5 p.m.
Location: Alaska Native Tribal Health Consortium Administration Building
Atrium, 4000 Ambassador Drive (near Elmore and Tudor in Anchorage, AK).
To get a taste of the 2018 Alaska Native Book Fair, watch for a video of panel discussions on 360 North on your local public television station.
Alaska Native Book Fair sponsors include the Alaska Native Tribal Health Consortium, Alaska Pacific University, Atwood Foundation, Best Beginnings, and the Alaska Native Media Group, a 501(c)3 nonprofit organization created in 2015.
The Alaska Native Media Group's mission is to:
Encourage and promote Alaska Natives in all fields of media and journalism
Strive for fair, accurate and relevant representation in reports on rural and urban Alaska Natives
Promote public understanding of Arctic issues and the history, culture and issues of Alaska Native peoples
Connect Alaska Natives who work in media and journalism by sharing ideas and concerns
Engage all people interested in our endeavors.
For more information, please call (907) 258-4686, or email jmestus50@gmail.com. Thank you.